The Stalin Room



Copyright © 1998, 2003 by Hugo S. Cunningham.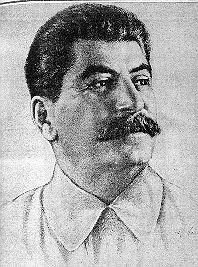 first posted 980930
latest update 000926
<! minor change y10409> <! minor change y11103> <! minor change 20031118> <! minor change 20040515> latest minor change 20060725

Recommended background music, "Song about Stalin," by Blanter and Surkov, has been put in MIDI format by Comrade P.K. Volkov of VOkSovProlKompMuz. The words and musical score can be viewed at this site: sg-st-bla.html.
Play Blanter and Surkov.
Check Index of Songs for other music selections.
Zhit' stalo luchshe, tovarishchi. Zhit' stalo veselee. A kogda veselo zhivetsya, rabota sporitsya.
("Living has become better, Comrades. Living has become happier. And when life is happier, work is more effective.")
--The Great Leader and Teacher



<! end indent of quote>
Directory
Many of the Great Leader and Teacher's works are available in English at:
<! end indent of site> His toast to the Russian People [translated 991121]
A Gallery of photos of the Great Leader and Teacher
F.S. Shurpin's prize-winning painting, "The Morning of Our Motherland":
A radiant Great Leader and Teacher stands before a prosperous collective farm and countryside.
Flattery, in English and Russian [revised 980820]
Some outrageous slander by Osip Mandelshtam
Stalin anecdotes (not available yet)
Suliko -- A Georgian folk-song believed to be a favorite of the Great Leader and Teacher. [words only; music may be provided later]

biographies

favorable

Another View of Stalin, by Ludo Martens, provides a refreshing contrast to the counterrevolutionary muck we usually see. Among many other good points, he explains the solid factual basis of the famous Moscow trials (1936-38).
This work is well organized, with numerous citations; we have not taken the time to see if they are accurate.
We did recognize one of his sources-- Louis Fischer, a socialist with a knack for writing in the style of a conservative US "Republican." For example, in The Soviets in World Affairs, Fischer sympathetically presented Soviet claims on Bessarabia from Romania, without once getting tangled in irrelevant arguments over supposed Romanian ethnicity of the Bessarabians. (Indeed, the Bessarabian people demonstrated what they thought of such arguments by unanimously requesting admission, as the "Moldavian SSR," to the USSR.)

<! end indent favorable>

<! end indent biographies> Linguistic curiosity


Comrade Coba (E-mail address), a linguist, has made available the Great Leader and Teacher's childhood surname (Dzhugashvili) in the original Georgian script.
stalin.pdf
<! end indent for directory>
Disclaimer
We would not have the impertinence to claim any purported "home page" of the Great Leader and Teacher. Since He is the Eternal Genius of All Usenet and All Humanity, every page on the World Wide Web is a mere reflection of His inspiration. That even applies to effusions by misguided counterrevolutionaries and Trotsky-fascist hyenas.

There is no over-familiarity, however, in setting aside an area for special honor to the Great Leader and Teacher; on the contrary, that is the socialist duty of every conscientious worker or peasant in the Cyber-USSR.
<! end indent of disclaimer> <! end general indent>
---
<! ---------> Return to Cyber-USSR home page

<! gone 20060725 Go to an extensive list of Stalin links maintained by "What's Left in the USA"> Return to home page of Hugo S. Cunningham