F. S. Shurpin, "The Morning of Our Motherland"
Copyright © 1998 by Hugo S. Cunningham

Added 981018
Last minor change 000809

From Matthew Cullerne Bown, Art Under Stalin, Holmes & Meyer, New York, 1991; p. 248:

SHURPIN, Fyodor Savvich, 1904-1972. Painter. Images of mother and child. Born in Kuryakino (Smolensk region). Joined RabFak, "Workers' Faculty", of Moscow VKhuTeMas 1923; studied at Moscow VKhuTeMas/VKhuTeln 1925-31. Awarded Stalin Prize in 1949 for The Morning of Our Motherland.
<! end indent of Shurpin cite> Note: Fascinated with and notably sympathetic to Soviet art, Mr. Bown recently completed a much larger book, "Socialist Realist Painting," Yale University Press, New Haven CT, 1998; cloth, 506 pp., $75.

Optional background music, for appropriately worshipful mood:

L. Revutskii, "Song About Stalin" (early-mid 1930s): replay.

M. Blanter and A. Surkov, "Song About Stalin" (late 1940s?): replay.

View Index of Songs for other music options.

MIDI renditions by Comrade P.K. Volkov of VOkSovProlKompMuz.
<! end indent for music>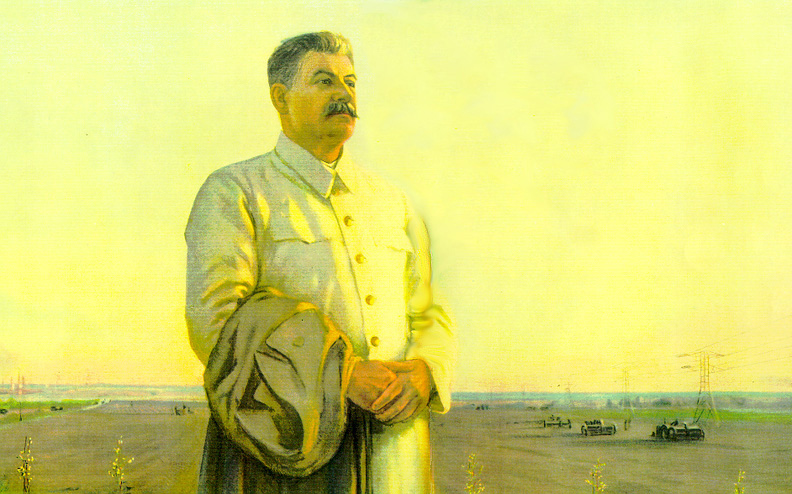 This copy was scanned from "Ogonyok," 1952 #46 (7 Nov), pp. 16-17. Technicians from BevGorRaiKom removed the unwanted crease from the two-page spread.
There have been other versions, with noticeable differences in appearance.

A radiant Great Leader and Teacher stands before a prosperous collective farm and countryside.

Matthew Cullerne Bown writes,

"This picture was a striking excursion in the career of Shurpin, hitherto known as a painter of peasant life and boxom peasant madonnas; some of his friends and supporters regarded it as a brazen attempt to earn money, but his son told me that Shurpin executed it in perfect good faith." ["Art Under Stalin," pp. 178-180]
<! end indent Bown quote>
---
<! ------------> Hokkaido University's "Slavic Research Center" maintains an extensive Internet catalog of Russian art at
http://src-h.slav.hokudai.ac.jp/eng/Russia/art-e.html

Prof John D. Windhausen of Saint Anselm College, Manchester NH maintains maintains a data base of Soviet artists active between 1932 and 1953 at
http://www.anselm.edu/homepage/jwindhau/welcome.html

---
<! ---------------------> Return to Cyber USSR home page.