N.I. Yezhov: A Biography by Aleksei Polyansky
Copyright © 2001 by Hugo S. Cunningham
first posted y10919
latest minor change y10919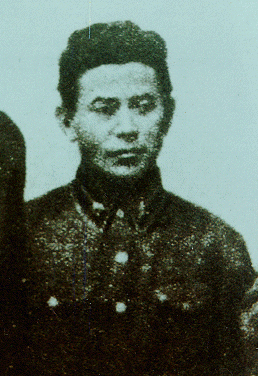 Aleksej Ivanovich Polyanskij, Ezhov: istoriya «zheleznogo» stalinskogo narkoma [Yezhov: a History of the "Iron" Stalinist Commissar], Veche/Osobyj Arxiv, Moskva, 2001.
400 pp.
Address of publishers:

ZAO «ARIA-AiF»
103012
Moskva
B. Cherkasskij per., 4

Izdatel'stvo «Veche»
129348
Moskva
ul. Krasnoj sosny, 24
<! end indent addresses> Scan provided courtesy of
bmb8m@server1.mail.virginia.edu



---
<! --------> Note: these short and fragmentary comments will not duplicate biographical information available in our writeup of Shoshkin and Bryukhanov's book.

Polyansky's biography leans heavily on documents from Yezhov's arrest (19 Apr 1939) and interrogation. His arrest is recorded on p. 197, a relatively early point in the book.

This book has some limitations for scholars, eg. no index (a common failing of Russian books) and less-than-comprehensive footnotes (though more than I see in most Russian books). As a literary device, conversations are recreated even when no transcript can confirm them, eg. on pp. 94-96, the newly appointed Commissar of the NKVD cautions his wife against the political indiscretions of her circle of arty friends.
Despite these quibbles, however, Mr. Polyansky's book provides more material than is available anywhere else.

A few points made in this book about N.I. Yezhov:
Polyansky confirms the lack of reliable info. about Yezhov's early years.

Polyansky dismisses the possibility that Yezhov's father was the "Ivan Vasil'evich Yezhov," a wine dealer, mentioned in an 1895 directory of St. Petersburg. Said directory only listed middle-income to wealthy people, not the sort of poor workers most likely to be Yezhov's parents. [p. 41]

Yezhov may have spent part of his childhood in Russian Poland, and his mother may have had some Lithuanian background. In a form filled out in 1921, Yezhov claimed some ability to speak Polish and Lithuanian. [pp. 41-42]

<! end indent of early life> Polyansky stresses that Yezhov, despite his lack of formal education, became a competent writer. He suggests that Yezhov's educated first wife, Antonina Alekseyevna Titova, may have helped him teach himself.

Polyansky provides more info (including a small photo) about Yezhov's patron (1927-1929) Ivan Mikhailovich Moskvin. [pp. 80-85]

In the mid 1920s, Moskvin was the second Leningrad party official behind Zinoviev. Moskvin despised his boss as cruel, unjust, and cowardly (Editor's note -- I have heard few, if any, admiring estimates of Zinoviev's character). For that reason, Stalin found Moskvin very useful to break up Zinoviev's political machine after 1926, appointing him to head the key Assigments and Records Department (Russian "Orgraspredotdel") of the Central Committee. Nevertheless, Stalin detected a lack of completely uncritical personal devotion, and gradually sidetracked Moskvin after 1929. [p. 85]
In November 1930, Moskvin's former protege N.I. Ezhov, after an absence as deputy Commissar of Agriculture, would be appointed to Moskvin's former job as head of the Assignments and Records department. Not only would Yezhov fail to protect Moskvin from liquidation in 1937; he even intervened against Moskvin's wife, who had mothered and fussed over him in the late 1920s.

<! end indent Moskvin> Polyansky dates the beginning of Yezhov's fall from the grand 20th anniversary celebration of the VChK-OGPU-NKVD at the Bolshoi Theatre on 20 December 1937. [pp. 159-165] Politburo member Anastas Mikoyan gave a speech of magnificent flattery (previously approved by the Politburo), but Comrade Stalin himself never showed up.
Comrade Stalin would not directly undermine Yezhov's position for many months yet, but Polyansky considers this snub as the first clear sign that Yezhov's power and prestige would not be allowed to exceed certain bounds.
<! end indent info>
---
<! -----------> Return to Counterrevolutionary version of N.I. Yezhov's biography.

Link to Authorized version of N.I. Yezhov's biography

Return to N.I. Yezhov's Home Page