Lev Davidovich Trotsky (Bronshtein)
Copyright © 1998 by Hugo S. Cunningham
first posted 980829
<! minor update 20001227> latest minor update 050128
As seen by George Orwell?
Animal Farm

"Comrades," [Comrade N.] said quietly, "do you know who is responsible for this? Do you know the enemy who has come in the night and overthrown our windmill? SNOWBALL!" he suddenly roared in a voice of thunder. "Snowball has done this thing! In sheer malignity, thinking to set back our plans and avenge himself for his ignominious expulsion, this traitor has crept back here under cover of night and destroyed our work of nearly a year. Comrades, here and now I pronounce the death sentence upon Snowball. 'Animal Hero, Second Class' and half a bushel of apples to any animal who brings him to justice. A full bushel to anyone who captures him alive!"

--George Orwell (1903-1950), Animal Farm: A Fairy Story, Signet Classic/New American Library by arrangement with Harcourt Brace and Company Inc, New York,
Copyright © 1946 by Harcourt Brace & Co.;
p. 72.




<! end indent of Orwell quote>

1984

The Hate had started.

As usual, the face of Emmanuel Goldstein, the Enemy of the People, had flashed onto the screen. There were hisses here and there among the audience. ... Goldstein was the renegade and backslider who once, long ago (how long ago, nobody quite remembered), had been one of the leading figures of the Party, almost on a level with Big Brother himself, and then had engaged in counterrevolutionary activities, had been condemned to death, and had mysteriously escaped and disappeared. ... He was the primal traitor, the earliest defiler of the Party's purity. All subsequent crimes against the Party, all treacheries, acts of sabotage, heresies, deviations, sprang directly out of his teaching.

--George Orwell (1903-1950), 1984, Signet Classics (New American Library), New York NY;
Copyright © 1949 by Harcourt Brace Jovanovich Inc.;
pp. 13-14.

<! end indent of 1984>
<! end indent of Orwell>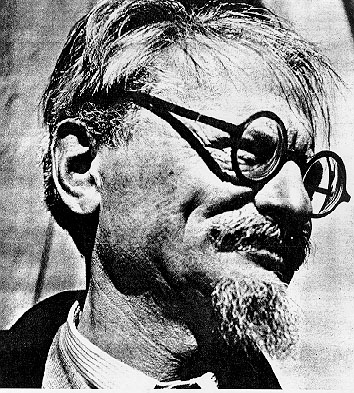 This photo, earlier appearing in "Fourth International" (Nov 1940), was reproduced in Leon Trotsky, The Man and His Work: Remarks and Appraisals by [various authors],
Merit Publishers
873 Broadway
New York, NY 10003
Published 7 Nov 1969; p. 34.

Trotsky
Lev Davidovich
7 Nov 1879 - 20 Aug 1940

Revolutionary, political leader

Arrested for revolutionary activity and sent to Siberia 1898-1902?. Joined Social Democratic party. When party split in 1903, chose Mensheviks over Bolsheviks. Major organizer of 1905 revolution in S-Peterburg. After failure of revolution, went abroad (1907) to Vienna, Switzerland, and USA. Returned after "February Revolution" (1917), joined Bolsheviks in 1917 and played key role in Nov 1917 Bolshevik coup. Organized Red Army and was widely credited for its victory in civil war 1918-1921. Brilliant orator. Had trouble getting along with other members of ruling Politburo; after Lenin's death (1924), they all united against him. Expelled from Party 1927, expelled from USSR 1929. Abroad, wrote about Soviet history and politics, and tried, with marginal success, to organize a "Fourth International" of anti-Stalin Communists. Assassinated by NKVD 1940.

The exiled Trotsky fascinated some democratic Leftists in the West; anyone Stalin hated so much couldn't be all that bad. Even if Trotsky had an attractive writing style, however, he was just as much a Communist as Stalin. Some of his less informed Western admirers might be uncomfortable with the following:

In civil war period (1918-21):


terror tactics as Red Army commander, including systematic taking of family members as hostages
bloody suppression of 1921 Kronshtadt uprising by Anarchist sailors (something most Anarchist groups never forgave him for)


<! end civil war indent> Later:


Instead of 1920s NEP, advocated Collectivization of agriculture and militarization of labor. (Stalin adopted these policies in 1929, but gave no credit to Trotsky.)
In 1939, supported Stalin's aggression against Finland


<! end later indent>
<! end discomfort indent>
---
<! ---------------------> 1947 "Great Soviet Encyclopedia" article on "Trotskyism".


Trotsky photographed with Nguyen Ai Quoc (the future Ho Chi Minh), 1924:
ho-chi-minh-trotsky.html
---
<! -----------> Return to CSU charter page.