<! begin hsc notes> <! downloaded by hsc on 20 Jan 99> <! from site http://www.christiangallery.com/atrocity/> <! site was taken down by Mindspring approx 5 Feb 99> <! due heavy civil verdict against webhosts> <! about a week earlier> <! end hsc notes>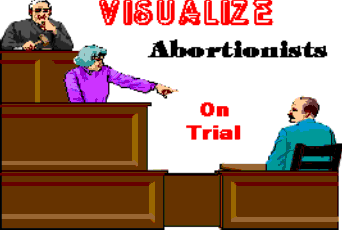 THE NUREMBERG FILES


Horrible Pictures Smuggled From Baby-Butcher Lab!


Nuremberg Files Web Site Overview
A coalition of concerned citizens throughout the USA is cooperating in collecting dossiers on abortionists in anticipation that one day we may be able to hold them on trial for crimes against humanity.
Why This Must Be Done
One of the great tragedies of the Nuremberg trials of Nazis after WWII was that complete information and documented evidence had not been collected so many war criminals went free or were only found guilty of minor crimes.
We do not want the same thing to happen when the day comes to charge abortionists with their crimes. We anticipate the day when these people will be charged in PERFECTLY LEGAL COURTS once the tide of this nation's opinion turns against the wanton slaughter of God's children (as it surely will) . If you are not perfectly clear on what we are talking about, click the hyperlink in the preceding sentence.
How You Can Help
In order to facilitate this effort, you can help collect evidence against:
1) Persons who perform abortion (doctors, nurses, etc.);
2) Persons who own or direct abortion clinics;
3) Persons who provide protection to abortion clinics (security guards, escorts, law enforcement officers, etc.); and
4) Judges and politicians who pass or uphold laws authorizing child-killing or oppressing pro-life activists.
These classes of individuals are all committing various crimes to which they should answer. We regard them all as "abortionists."
The evidence we collect will be forwarded to several secure locations so that pro-abortion forces will not be able to destroy the evidence and prevent its future use. In addition, we will share copies of the pertinent information with local or national pro-life organizations which may need it in their work. Some of the information, for instance, may be very useful in a present day trial if the abortionist is being sued or charged with another crime. Other information may be useful in revealing to neighbors and colleagues of the abortionist by way of exposing the horrible crimes the people are committing.
The kind of information we need is material that will be acceptable in a court of law for identifying the child-killer and for proving the specific kinds of participation that each individual had in aborting children. We need the following:
1) Photos or videotapes of the abortionist, their car, their house, friends, and anything else of interest (as many and as recent as possible);
2) Current and past personal data including date and place of birth, home and business addresses and phone numbers, Social Security numbers, automobile plate numbers, names and birthdates of spouse(s), children and friends;
3) Criminal records, including driving record, mug shots, and fingerprint card;
4) Civil suit record, including informative depositions and divorce file (if any);
5) Affidavits of former employees, former patients, former spouses;
6) Newspaper clippings, news videos;
7) Statements of factual interest from investigators or pro-lifers who have had regular dealings with the abortionist;
8) Contemporaneous notes, journals, or diaries by surveillance workers, sidewalk counselors, or picketers; and
9) Anything else you believe will help identify and convict the abortionist in a future court of law.
We have included a couple of sample files to give you an idea of what kinds of things we need. These samples DO NOT contain our entire dossier on these abortionists, only the central data sheet and some portions of other file material.
DO NOT assume that material you have is already in our hands or that it is not the kind of material we need. It is easier to deal with duplicates or to dispose of material which cannot be used than it is to try to prosecute these killers with anything short of all the material we can collect.
Below is an abreviated list of some of the files currently under construction. Some of these have "quit the business" but unless they have come out openly and strongly to actually oppose abortion (a la Nathanson or McMillan), we still need to collect data in prepararion for the trials. Whatever culpability is for the COURT, not us, to decide. If you have information about any of these, or if you have new abortionists' names and data for the Files, please mail them to the address listed.
Take Action Today!
Call Your Local Abortion Mill and Ask For Names, etc.
Visit The Baby Butcher Shop and Take Pictures (Exercise Creative License)
Visit the Court House and ask for Legal Documents pertaining to Abortion providers and personnel.
Send Us the Things You Discover!
For Instance: Who Is This Man?
The Files Found On This Page Are Samples of the Database Presently in Place. We Have A Target Deadline of ****** for the posting of an exhaustive listing of every Abortionist presently plying their bloody trade in the USA. Please make it a priority to submit your evidence before that deadline if at all possible.
*****Now that the first deadline has past, we want to thank everyone who sent us all the new information on those making their living slaughtering God's children. If you go to the main archive on the link below, you will see there are a few States in the nation where we still do not have comprehensive data. In addition to continuing to keep your archives current, please contact people in those States where work needs to be done and encourage them to make their information current.


Please follow the format found below in collecting your evidence on the abortionists in your area.
Sampling of News Stories About This Web Site.





We are prepared to be polygraphed on this next assertion:


Several people visited this website and complained because their baby slaughtering activities were not documented here. To provide those people with a handy confession form and show our gratitude for saving us time that we can devote to less forthcoming murderers, we have added the following link. Confess here.
FEDERAL GOVERNMENT ATTACKS CHRISTIANGALLERY.COM

PRESS RELEASE: WEDNESDAY, NOVEMBER 04, 1998
AMA RESPONSE TO NUREMBERG FILES LEADS TO POST ABORTIONIST ASSASSINATION SEMINARS (PAAS)
Christian Gallery Owner Receives Anthrax Threat!
Read Our Mail
Use "Back" button to return.
Allies
Enemies
Your material can be sent to: PO Box 1281, Carrollton, Ga, 30116 OR Click Here To Send Evidence or Feedback
We can end the Abortion War if we ram the images of the babies being slaughtered into the minds of every citizen in this nation. Ram those images into their minds until the vast majority is ready to vomit out legalized abortion like Caesar vomited out the ancient church when he was moved to repentance by images of countless, unremitting, endless carcasses of God's children. God knows there is no shortage of dead babies to photograph in this nation today or tomorrow or the next day until the legalized abortion is arrested.
Won't you please help us stop the Abortion War?
Every penny you donate will be accounted for using the accounting practices authorized by the National Association of Evangelical Ministries and will be available for public scrutiny. Because your donation will be used in such an unusual project, it is highly unlikely that the government will allow you to use it as a tax deduction. But because of the love God has for His slaughtered children, we have no doubt that the Living God will use receive your donation as a sweet smelling savor arising to His nostrils and will bless you accordingly.
You can make out your donations to either Pathway Communications (the umbrella publishing company owned by Neal Horsley) or Neal Horsley, PO Box 1281, Carrollton, Ga 30117 or email us for specific instructions.