Copyright © 2003 Hugo S. Cunningham
Original Soviet text was not copyrighted

Added 20030422
Last minor change 20030422
---
<! ----->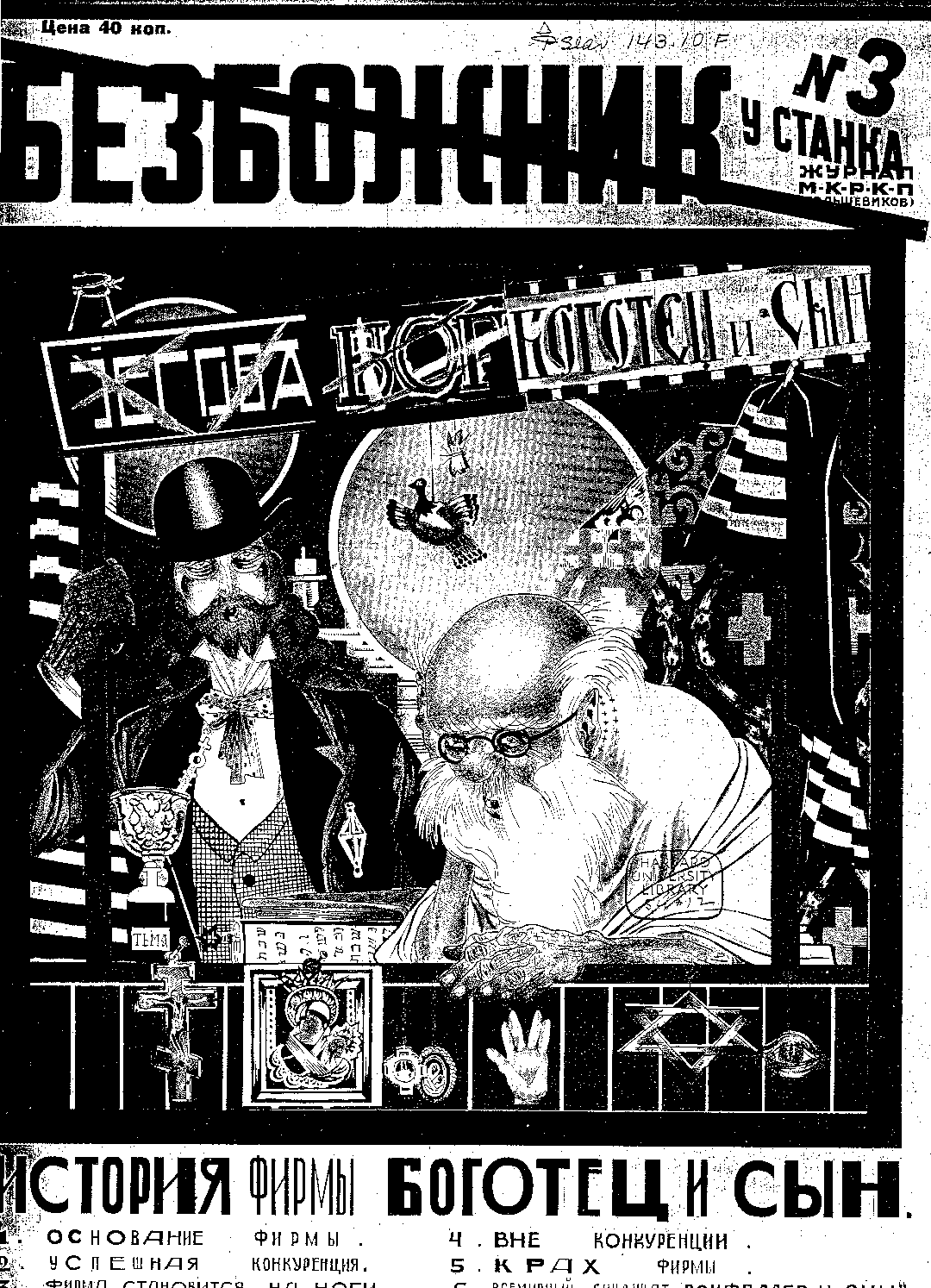 ---
<! ----> Ob"yasnenie latinskoj azbuki vospolzuemoj zdes'
Cena 40 kop.
Price 40 kopeks
BEZBOZHNIK U STANKA, #3 (1924)
THE ATHEIST AT THE WORKBENCH
ZHURNAL M.K.R.K.P.
(Bol'shevikov)
MKRKP -- mozhet byt' «Moskovskogo Komiteta Rossijskoj Kommunisticheskoj Partii»
JOURNAL of the M.K.R.K.P.
(Bolsheviks)
MKRKP -- perhaps "of the Moscow Committee of the Russian Communist Party"
Ris. D. Moor
Cartoonist: D. Moor
ISTORIYA FIRMY BOG-OTEC I SYN
History of the firm "God the Father and the Son"
1. Osnovanie firmy
Founding of the firm
2. Uspeshnaya konkurenciya
Successful competition
3. Firma stanovitsya na nogi
The firm gets on its feet.
4. Vne konkurencii
Outside of competition
5. Krax firmy
Collapse of the firm
6. Vsemirnyj sindikat «Rokfeller i Syn»
Global Syndicate "Rockefeller and Son"
---
<! -------->

The theme of this month's issue (and cover) is anti-Christianity.

The sign at the top shows crossed out "Jehova God", and to its right "God the Father and the Son." The stuffed bird hanging by a thread may be a mockery of the Holy Ghost. Jesus, as is common in these cartoons, is portrayed as a well-nourished, well-dressed, devious character.
---
<! -----> Return to index page for Bezbozhnik.